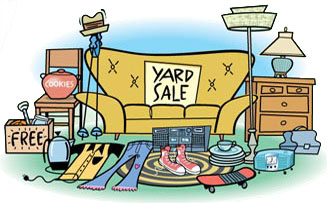 Edited 5/1/19 @10:30PM
Goose Lake Road
3950 Faith Baptist Church - - Free Popcorn & Water to all who stop by. Restrooms will be open and available. Donations would be appreciated
Peart Road
5900 Lawn tractor, weed whacker, tools, wheel Barrow and much more
5990 American Girl dolls, clothes and accessories. Craft items, fabric, household items, clothes, fireplace insert
Barbie dolls, gridwall hooks
6095 MUTLI FAMILY Fri and Sat 8 to 4 Clothes, girls and boys newborn to 7. Clothing and shoes for all. Toys; Little
Tykes slide; cozy coupe , girls mountain bike, easy bake oven, book case, headboard, drone, house hold items,
Jewelry, weed whackers and so much more
6200 TOO MUCH TO LIST – DON'T MISS THIS SALE
6215 Baby Boy outfits 3 – 18 months; girl clothes 12 months women's clothing sm to xl. Curtains;
Swing cushions, pictures, Nespresso machine, men's bike; purses; dicaper bags; misc
6265 We've got something for everyone! Toys, games, clothing, household items, American Girl & Bitty Baby items, desk, dresser
6445 Girls clothes 5 to 8 ; 100's of children's books; American Girl doll clothes, horses, jeep , scooters, kids games
Women and men's clothes; boy clothes size 4/5 & 6/7 Boys shoes 13 – 1 ½ many household items
Northern Drive
6095 May 2 – 4; 8:30 to 4; Motor guide trolling motor 12v 35lb thrust; Halloween stuff; crafts
Plastic canvas items; knitted items; Airplanes and boats made from recycled cans. Books, misc NO CLOTHES
6195 Clothes .50, mostly girls size 6; toddler toys and other items. ALL sales benefit the GLA kids club and fishing contest
Bayview Drive
5400 COMPETITION SKI BOAT – Well maintained; in excellent working order, has plenty of life left in it
Well cared for, always stored on covered shore station during the summer and heated garage in winter.
All mechanical history available upon request. 351ci PCM engine and velvet drive transmission
Spare prop and trailer included
5460 3 FAMILY SALE – Tractor; generator; couches; misc furniture & household items. Grill; tools
250 honda 4 wheeler and bikes
5515 5 FAMILY SALE; We have 2 years worth of sale items; antiques; collectibles; furniture; bar stools clothes;
Houseware; designer purses; shoes books; old payphone – Something for everyone
5570 Tomato plants from seed; toaster oven; 1941 Singer Sewing Machine; Antique cash register; Pet bed
Fypon railings and posts; American Girl items; electrical supplies; nails; multiple cameras (bundle)
Window A/C ; dehumidifier; Misc Household décor
Greenfield Drive
5375 New Lund tri fold tonneau cover for Chevy long bed truck; misc. hand tools; small tool chest;
Air compressor; Christmas items; Adult clothes and much more
Tiffany Lane
3540 THURS FRI AND SAT luggage; stroller; trampoline; treadmill; king size bedding; Men; women; junior and girls
Clothing size 12 and up; scrubs size S/M; snowsuits; junior formal dresses size 8.Corelle Ivy Canisters/teapot
BAKERY SATURDAY ONLY; Maple bacon bars; brownies; pop; water; juice boxes and chips
Tony Cove
1520 Razor go cart; razor pocket bike; Arctic Cat Prowler snowmobile; air hockey table; canoe
Dining table; coffee table; boys Nike; under armor; ambercrombie size xs – Lg; girls size 4/5
Tons of toys, sporting equipment Open Friday 5 to 8
1630 Table and chairs; American Girl dolls; games; snow board; misc household items
Whitetie Road
6270 Old tools; vintage oil cans; outboard motor; some decorations; adult clothing and more. A little mix of everything
Rollin Lane
1555 MULTI FAMILY – Home décor; holiday decorations; men and women's clothing, end tables
Old snowmobile and jetski parts; two Harley motorcycle seats
1575 THURS 8 to 3 and Fri & Sat; DON'T MISS; New and used furniture; primitive housewares; glass bistro table/chairs
Kitchen table/new chairs; cast iron weather vane; hanging cast iron tripod pot; horse shoe sets; benches; outdoor
Rustic décor; white shutter items; metal wheel; planter blade; 2 bakers racks; beautiful large armoire; 2 vintage Star
Trek dolls; brand new charcoal and smoker coleman grill; vintage ice cream stools. $1 table
1665 Women's slacks size 10;12 & 14; women's tops Lg; girl toys; nursery set; kitchen set; bicycle; army stuff;
Weed whacker; kitchen stuff; men's jackets size LG; Indoor decor
Deerfield Dr
5405 Outdoor furniture, futon, recliner, tables, antique dresser & more. Small appliances, pots, pans, dishes, linens, home décor, baby items & kids toys, clothes men xl & boys 18 mo-3T, golf bag & clubs, assorted machinist tooling, lots of misc. Huge garage & its full
5770 hand saws; craftsman belt sander; vintage hand plane; electric stapler; shop vac; laser level w/tripod
misc tools; turntable; lps & 45's – claw foot table; speakers; iron man inversion table; puzzles; household
items; 18" older 2 stage snow thrower; vintage Devilbliss Compressor; generac7.5 w/switch
6045 Books; hand tools; and much misc.
Island Drive
2245 Adult Clothing and accessories; Household goods; furniture; Christmas decorations; Building materials;
12' ladder; wood chipper; 1000 sq ft of porcelain tile; 4' & 8' shop lights; Blinds; Shop Notes and
Fine Woodworking Magazine collection; Wall Unit; Dodge Ram Tonneau, weight lifting equip. Training tables
Belt/Disc Power Sander; Electrical wire and gas pipe.
2400 Used generator, air compressor, new concrete tools, landscape tools, misc tools, clothing, ladders, truck bed camper
Hideaway Court
2105 Household, décor, women, men & kids clothes, 2006 Honda Van, outdoor furniture, other misc.
Wahoo Court
2305 Friday & Saturday 8:30 to 4 pm - Pontoon Boat w/trailer & 25 HP motor; golf cart; gang box; lockers; generators;
Headache truck rack; tools; patio set with 6 chairs; furniture; lawn decorations. Too much to list
2250 MULTI FAMILY MOVING SALE – Desks; Armoire; Wardrobe Cabinet; Filing Cabinet; Rocking Horses;
Table & Chairs; Wing Chair; American Girl Doll Cabinet; Kitchen; household; tools; holiday Clothes size 4 to 1 XL.
Fairy garden items; lawn mower; 12V kids car; portable batting trainer and Bo-Flex
Gateway Gorge
2785 Friday & Saturday 8am -4pm Multi Family – 2012 Harley Switchback; Collectible diecast cars; Barnwood beams;
Toddler girls clothes 3T – 5T; boys 3T – 4T; toddler shoes; high chairs; pack and play; kids toys; Jr & Women's clothes S – L ; Men's clothes LG/XL; Outdoor Pots; home décor & household items; New jeep wrangler wheels/tires; golf cart wheels; jet skis; trailers; snowmobile parts; slot machine and much more.
3005 2015 UTV Cub Cadet 500 $7,300; Riding Lawn Mower 18 HP $375; Outboard 9.9 Mercury $750;
2 Go Carts $600 & 200; 1978 Honda ATC 90 $600; Mini bike $250; Chevy or Buick Chrome Rims; High Wheel walk behind; 4 cycle gas string trimmer mower
3105 KitchenAid mixer, Kelty women's internal frame backpack, Jansport men's external frame backpack, woodland themed wedding centerpieces, oak platform rocker, Coleman electric cooler, some men's ice hockey gear, books, misc.
3125 Come and see the most organized sale in Goose Lake; May 2,3,4 five families
Sofa/loveseat set; sofa; rockers; dressers; 2 cribs; toddler bed; pack n play; 2 changing tables; girls clothes newborn to 4T; Boys clothes 12m to 3T; Hunting clothes XL – 2 XL; curio cabinet; gas grill; snow blower; small animal enclosure; Beatle Lamps, radio flyer wagon
Lincoln Lake Drive
3050 Girls clothes 7/8-10/12, boys 3-7, toys, kids bikes, household decor
North Prairie Drive
5640 MULTI Family – household decorations; furniture; clothes; books and miscellaneous items
5935 Adult Clothes; tools; games; DVD's; Small Fishing Boat; misc. householod items.
6095 Clothes Girls 6m – 12m, 4 - 8, Boys NB-3T, 4-8 & 14/16 Jr XS/M, Women's XLG-XXL & Men's XL-XXL,
Wedding items; NWT Wedding dress; NWT Mother of the bride dress; vanity; household items; toys
Fish tank; 2 Polaris 4 Wheelers; Graco infant seat with 2 bases; 1972 VW Super Beetle; Maternity Clothes
6175 A LITTLE OF EVERYTHING; Furniture; tools; wet saw; household décor and items; toys; crafts
MANY NEW ITEMS – Rain or Shine
6415 Riding lawn mowers; furniture; clothes (men's women's boys and girls baby items; toys; children's books
Double stroller; changing table; girls bike; kids shoes
South Prairie Drive
5870 MULTI FAMILY – flat screen TV's; toaster ovens; men's bike; many household items
5930 Bikes; Curtains; furniture; housewares; John Deere 112 Tractor w/parts tractor;
1996 Ford Ranger; Teen; Men and Women's clothes…..A little bit of everything
6130 FOOD – Pork chop on a stick; Italian sausage; hot dogs
MANY SELLERS – ATV; New Items; Scentsy; kids toys and clothes; toddler bed; ride on toys; shelves; cabinet
Much much more
6175 Pole Chain Saw, Tow Bar, Many tools, bean bag game, weed eater, electric lawn edger, hitch mounted carrier, bikes, hitch receiver, meat slicer, pots and pans, luggage and much more
Pheasant Drive
3440 Crafts; Clocks; household items; decorations and other misc.
Bass Court
3560 Glass TV Stand; table lamps; floor fan; floor lamp; baby swing; 2 twin flower comforter sets; picture frames
kitchen items; snowman couch pillows; various ceramic and stuffed snowmen; log cabin coffee table and end tables;
plugs; switches and plates for all; various gift bags for all occasions; 2 gallons of paint never used; 2 drawer metal file
cabinet; 15 hours Evinrude motor, 1976 w/ electric start; turkey fryer NEW; National Geographic CD's
rims for trailer ; kids toys
3585 HUGE 3 FAMILY SALE – tools; fish cleaning table; furniture; stained glass; bikes; bar and bar stools; fireplace
mantel; house hold items and CHERRY CHEESE CAKE in a CUP
Catfish Court
3505 FOOD, FOOD, FOOD PAM'S CORN DOG WAGON. Come here for breakfast and lunch! Biscuits and Gravy, Corn Dogs, Lemon Shake Ups, Pop, Water and much more. FUNDRAISER FOR PAMS DANCE ACADEMY!!!
3505a Bean Bags; New tools; Hostas; Avon; Amish Jelly-honey salsa and more; Christmas Items
14-18 Silverado Quad Cab OEM Step tubes; Boat seats and pedestals; House Hold items Otis Spunkmeyer Oven;
So much more
3520 MOVING SALE – Dyson Vacuum; holiday "village" décor; (Christmas; Halloween; spring; July 4th etc)
Furniture and tools; Ducks unlimited Jim Beam decanters, dishware; holiday décor and clothing
Muskie Trail
5835 Action Figures; nerf guns; stuffed animals; children's books, pop & water.
ALL SALES WILL HELP PAY FOR MY CLASS TRIP TO WASHINGTON DC.
Blue Gill Ct
3550 Women's clothing; men's clothing; boy's clothes ; baby clothes; baby gear ; house hold items and
décor; tools and much more!
3560 Oak Curio cabinet; twin bed; corner unit; brown leather sectional couch; women's and teen clothing
children's toys
Walleye Road
3585 Antiques; vintage pyrex; women's plus size clothing; Lamps; home and holiday decor
Small boys bike; women's regular size clothing. Rt 66 bar stools
3600 Motorcycle; bucket loader No. 48 off of John Deere 4020; 4 used 10 ply tires from p/u truck.
Riding mower; new home window shades; stair climber; gun cabinet; new bathroom vanity;
New bathroom mirror and lots of other Misc. too much to list.
3605 Bikes; kayaks; Stampin up; Vera Bradley, books, crafts; Lilla Rose Haircessories; shoes; new stitchery kits
New and loved cookbooks; Boyds Bears; adult ad kids clothing; Vases; Nick-nacks; Tupperware and much more!
3650 Boys clothing up to size 6; girl's clothing up to size 4T; women's clothing sizes 4 – 18; yarn; Dooney Bourke
Purse; storage ottoman; dish scrubbies; handmade items (baby quilts; totes; table runner; wallets and throw pillows)
Women's bike, collectible Santas and other misc house hold items.
Perch Ct
3615 16' John boat w/8hp Mercury motor and accessories; furniture – chairs; tv stand; shoe rack;
men and women's clothing and women's shoes and purses; jewelry; scarves and electronics
Junebug Lane
6435 4 foot power strips; heavy duty caster wheels; vintage dishes; 2 10 speed bikes
house hold goods and more
6475 Young men and women's clothing (Hollister; express; under armour; AE; Billabong) t-shirts
dress clothes; suit coats; snowboard pants; board shorts; PS2 with games; lots of tools and work belts;
home décor; baseball equipment; high chair; weed eater; fire pit; Vera Bradley bags and more
Candyland Lane
3805 New kayak; amana fridge; kitchen appliances; legos; engine hoist (NEW in box); furniture – hutch;
desk; chairs; wood mantle; soccer gear; baskets and much much more
3810 FRI & SAT 8 to 4 ; Couch; teacher supplies; children's books; women's clothes size M; men's clothes size S/M;
XL dog crate; holiday and home décor; games; mountain bikes and much more.
Dresden Rd
3050 Handmade Goat Milk soap; lotion; lip balms; bikes; men's; women's and girls clothing; headboard
dresser mirrors; home décor and toys
3870 boat; jet skis, batting cage and tunnel; dishwasher; gas stove; grill and other outdoor items
lots of indoor décor and house hold items.
Jugtown Road
3370 Rustic Furniture
3470 Exercise Bike; treadmill; utility trailer; battery operated paddle boat; small generator; sewing machine
In cabinet; bow and arrow; golf clubs; miscellaneous odds and ends
McArdle Road
5070 MULTI FAMILY Sale – Infant/toddler clothes/shoes(boy/girl) Infant/toddler toys/games; Infant swing;
Infant bouncers; double stroller; infant car seat/stroller; toddler bikes; Men/women clothes/jackets;
Furniture/home décor – Tanning bed (pictures available; pick up or delivery New Lenox)
Many Miscellaneous items
Any donation for site maintenace
is appreciated.
Copyright © 2001 - 2015 Goose Lake Garage Sales