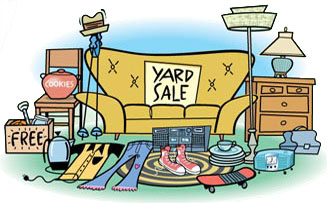 Edited 4/29/21 @5:17pm
Peart Road
5850 MULTI FAMILY- Furniture, home décor, adult, baby & kid's clothes, misc. household items
6095 MUTLI FAMILY Kids, women's & men's clothes, shoes, furniture, housewares, toys & much more, something for everyone
6155 FRIDAY & SATURDAY MULTI FAMILY, Kids, boy & girl clothes, toys, women's clothes, home décor, so much more
6215 MULTI FAMILY – Baby girl clothes & shoes, NB-18mo, toys, pay kitchen, bouncer, rock & play, baby boy clothes NB-24mo, activity cube w/blocks, baby headbands, furniture, pictures, décor, housewares, curtians
6265 Miscellaneous items from out home purge 2020!
6295 FRIDAY 4-8 & SATURDAY 8:30-4 Kids clothes, shoes, toys, books, hunting clothes, deer stands, antiques, collectables, fishing gear, new Tupperware, oak table, oak desk, file cabinet, washer, lamps
6445 Girl clothes size 7-10, women's clothes, toys, kids books, kitchen ware, 2 girls bikes
Northern Drive
6030 Women's bathing suits, ladies lingerie, women's clothes ALL BRAND NEW, maternity clothes, transport wheel chairs, canes, bath tub supports. All proceeds benefit the secret food pantry
Bayview Drive
5345 Designer women's clothing/shoes, household items & misc
5555 Baby clothes, toys, furniture, strollers, breastfeeding pumps/items, baby, infant, kids & adult shoes & clothes, lots of toys, kitchenware & tools
Greenfield Drive
5375 2 Years of stuff! Adult clothes, household items, lots to see
Tiffany Ln
3540 THURS, FRI, SAT 3 pc entertainment center w/tv opening 44-66", New T/F/Q bed frames, cal kin & f/q bedding, microwave, toaster oven, Harley helmets barely used, Keg-A-Que grill, counter height stools, dorm room kitchen items, clothing-men's, women's/juniors, bath light fixture, lamps, purses, backpacks, full size panda duvet bedding set
Jugtown Rd
3460 Old tools, left over building materials & supplies
Shady Ln
4595 Morton Pole Barn steel, Wainscoat 4 yrs old, pole barn windows/door, gas stove, small appliances, cooker, microwave, cookware, glassware, clothes, jewelry, inflatable rafts, pet supplies, file cabinet, household items, too much to list
Whitetie Rd
4475 Children's books, toys, tools, household items, outdoor items and much more
Tony Cove
1520 Sports equipment, pitching mound, catchers gear, cleats, ice skates, nerf guns, sports décor, games, toys, tons of boys clothes youth small-adult small -ALL NAME BRAND, Nike, Under Armor, American Eagle, Abercrombie, Coaler wear, Wilson, Lawn chairs, snow skis, life jackets, wet suits, house and outdoor stuff.
1610 Grass catcher, yard roller, rototiller, gas tanks, life jackets, leather chair, AVON and lots of new and used items for Mothers Day
Deerfield Dr
5405 Multi family sale – furniture, restaurant grade mixer, dryer, tools, vintage jewelry, lamps, pictures, household goods, boys 3-4T, men's L-XL
6250 Pressure washer 6.5 hp 2400PSI, 2.2gph Craftsman, Coleman 1850 watt generator, Coleman 300 watt generator, motor guide 36 volt trolling motor, 2 white fishing seats, 50cc bushwacker brush cutter, snowblowers running & not, 1968 ss396 el camino, 2006 vw jetta tdi, small & big block chevy engine parts, performance boats, boat stuff, toys & lots more
Island Drive
1975 FRIDAY 8-2, SATURDAY 8-3 Lots of clothing, boys 3t-5 & girls 5-10, women's size small-large, many name brands, tons of toys & household items. Prices to sell fast
Wahoo Drive
2250 American girl doll cabinet, steam mop, carpet cleaner, wing back chair, women's clothes S-L, American Eagle, Banana Republic, New York & Co, garden misc, picture frames, perennial plants, kitchen misc, holiday misc, chain saw blades, fairy garden misc, threads
Wahoo Court
2305 Friday & Saturday 8:30 to 4 pm - Loft bed, oak lighted glass cabinets, queen sleigh bed & dresser, Christmas houses, household items, tools, 32" riding lawn mower, too much to list something for everyone.
Hideway Ct
2105 Flat screen TV's, furniture, household items, home décor, tools, yard equipment, play house sides, boys clothes size 8-16, women's clothes, holiday decor
Gateway Gorge
2785 Friday & Saturday 8am -4pm Multi Family – Matco toolbox, Snap-On tools, Mac tools, compound bow, rototiller, junior & women's S-M, Mens L-XL, girl 4-7, boy 4-6 clothing, toys, old crocks, couch, home décor & household items, diecast cars, HO model trains, 39' motorhome, jet ski & trailer, generator, tons of misc stuff
3005 THURS, FRI, SAT 4 wicker patio chairs w/cushions, antiques, deluxe paddle boat, tools, bar stools, chairs, saddle, exercise machines, stereo, rug shampooer, washer/dryer combo for RV, foldable bikes, kayak cart & more
3105 TESKE 4'x8' utility trailer, PROTEMP 125,000BTU kerosene heater, Brio Premier cold water Coleman 15' canoe, Jansport external frame backpack, antique hand saws, automotive creeper & jack stands, woodland themed wedding centerpieces & table numbers
3125 THURS, FRI, SAT 8:30-4pm 5 families means huge variety! 2 years worth of treasures. Lemonade & farm fresh eggs for sale, 50" Roku smart TV new in box, 12" girls bike new in box, 2 adult bikes, convertible baby crib w/mattress, toddler bed w/mattress, Frozen doll house, dishwasher, Joovy double stroller, toys, games, puzzles, Step 2 wagon, boys 18m-5T
Meadow Dr
2515 Furniture, household items, clothes, pet supplies
Lincoln Lake Drive
2135 Children's clothes, toys, small household furniture, rocking chair, side table, stool, ottoman, picture, mirrors, vases, bedding, women's dresses, blouses, jackets, purses & scarves size 8/M, tools, sports equipment, golf shoes
North Prairie Drive
5640 Sylvan Fishing boat 16' deep V, 9.9 4 stroke mercury & trolling motor w/depth finder, John Deere riding mower, fishing lures, reels, etc. Dressers, oak kitchen table, 4 captain chairs, toys, household items, decorative items, 4 new cooper tires & more to see
South Prairie Drive
5845 2x12x14 lumber, ceramic tiles, misc. building supplies
6130 Huge 5 family sale – Polaris ATV, tools, Lula Roe clothing, household items, Scentsy products, new ladies purses & much more
Catfish Court
3505 FOOD, FOOD, FOOD PAM'S CORN DOG WAGON. Come here for breakfast and lunch! Biscuits and Gravy, Corn Dogs, Lemon Shake Ups, Pop, Water and much more. FUNDRAISER FOR PAMS DANCE ACADEMY!!!
3505a DJ system, 20x40 real tent, 14' tracker deep v boat w/trailer, Ottis spunkmier cookie oven, meat slicer, boat seats & anchors, star commercial hot dog steamer, to much to list 2 YEARS WORTH PLUS don't miss this
3520 LeMax lighted houses, carnival pieces, printer, dishes, housewares, some tools, Ducks Unlimited Decantes
Muskie Tr
5625 Men's, women's, girls clothes 6x-Adult XS, women & girls shoes, toys, books, games, stuffed animals, housewares, décor, furniture, tire, rim sets, misc items
5820 Longaberger baskets-large selection, pottery, wrought iron, vintage, items, Schwinn woman's bike, Beanie babies lg & small, household items
5835 Please help me raise money for my Boy Scout hiking trop this summer! Paris bedroom décor, holiday & outside décor, pictures, Miller lite pool table light, kid bookshelves & desk, dresser, daybed, snacks & drinks & much more
5900 Multi-Family sale – Misc household items, girls clothes, stationary bike & lots more
Gold Finch Dr
3420 A lot of everything! Most items are brand new: barstools, indoor & outdoor lighting, small appliances, craft items & so much more! Small fishing boat with trailer, ATV
Perch Ct
3610 THURS 2-7, FRI & SAT 8-4 Huge multi family sale – Something for everyone, household items, décor, kitchen items, garage items, hunting, fishing stuff, children's books, seats, toys, strollers, play pens, etc. Bar stools & much more
Cardinal Ct
3255 66 SS Chevelle, paddle boat, tool boxes, Merc 9.8 boat motor, trailers, clothes & lots more
Blue Gill Ct
3550 Misc household tiems, decorations, rugs, antiques, pictures, ceiling fan, copper bathroom sink, exercise bike, snow board, motorcycle, lots of stuff to much to list everything!
Walleye Road
3505 Baby, kids & women's clothes, kids sports gear, household items & toys
3585 Antiques & vintage collectibles, women's clothes & shoes, lawn mower, tools, boat seat, costume jewelry, Pyrex, Fire King fenton glass, furniture, Colorstreet nail strips, New & retired crafts & sewing stuff
3600 Industrial welder, Lincoln gas welder, welding carts, welding tables, acetylene torches, tanks, BRAND NEW commercial Xerox machine w/warranty, shop smith w/all attachments & manuals, books and addons, Misc tools, Tomahawk towable wood chopper, new 13k synthetic rope winch & accessories, ew winch 2/0 cable kit, j hooks, mount and more
3605 Crafts, Stampin up, Boyds bears, Housewares, Plus size, baby/toddler clothes, toys, bike, Vera Bradley & misc
Junebug Ln
6325 Pontoon boat, like new Cub Cadet riding mower, Polaris Hammerhead 2 seat go cart w/roll cage, furniture, housewares, décor, tons of great items
6355 Tools, furniture, toys, clothes, all sizes, dishes, professional pitching machine, drapes, comforters, old railroad Jack scissor jack, light bulbs, walkie talkies, cleaning out the garage, adult mountain bike, mongoose bike
6385 Cargo/luggage carriers (1hitch type, 1 rooftop), small outboard motors (needs work), golf club set w/bag, tanning light UVB whole body standing type, boys youth bowling balls & bag, lighted ceiling fans, craftsman 10" radial arm saw, dorm size refrigerator, 15' Larson speed boat w/80 HP Merc (needs trans work)
6490 Multi-family sale – Maurices & Silver jeans 11/12, purse heaven, home décor, furniture, laser printer, scrapbooking, Cricut cartridges, camping gear, beverage dispenser, pressure cooker, bedding, board games, toys, cookbooks, bar & much more
Candyland Ln
3850 FRI & SAT 7-3 – Multi-family- TV, sound bars, cordless tools, scroll saw, drill bits, Rae Dunn maternity, Men's Lg, Women's JR, Med, boys 9mo-24mo, girls infant-4T clothes, shoes, home décor, toys, kids books, Grace car seat & base & lots more
N Bluff Rd, Morris
1555 (Off Whitetie Rd) Moving Sale open Saturday 8-3 All things must go. Metal lathe assorted tools, Fossils, kitchenware, dresser, curio cabinet, coffee tables, couch, kitchen table, framed artwork, dishes, frames, TV stand & much more all priced to sell
Dresden Rd
3770 Baby/toddler items, clothes, shoes, home good items new & used, mirrors, wall décor items
E Pine Bluff
5115 FRI & SAT Masks Required: Nascar collectibles, twin headboard, utility cabinets, bookcase, kitchen home décor, shepherd hooks, Hoover floor scrubber, vintage die cast cars, trucks gas pumps, airplanes, scrap wood treated & untreated, antique chandelier, 26" bike, 36" & 62" blinds off white, garden décor, pots, misc sports equipment
Following below are all off Lorenzo Rd to Countyline Rd through the covered Bridge
Mallard Ln, Wilmington
8680 Hammock stand, outdoor décor, campfire grill, family DVD movies, various shelves, bird cages, trio crock pots, yard ornaments, household goods, picture frames, leather chaps (Small) vegetable seeds
8740 Household/kitchen items, 2 singer sewing machines, purses, women's clothes, Also Deb's Craft Boutique which is homemade baby/kids quilts & pillows, bowl cozies, table runners, etc.
Teal Ln, Wilmington
8611 Lots of stuff too much to list, lots of household items
8880 Furniture, boy & girls clothes NB-3T, adult clothes, purses, shoes, & much more
Pheasant Tr, Wilmington
8655 MULTI FAMILY – No Reasonable offers refused! Golf cart, paddle boat, tools, coolers, household & craft items, antique secretary desk, ride on toys, clothes, baby stuff, shoes, lots of new items, FREE STUFF, chain saw, something for everyone!
Any donation for site maintenace
is appreciated.
Copyright © 2001 - 2015 Goose Lake Garage Sales