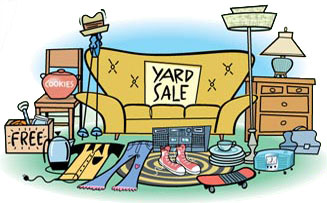 Edited 5/2/18 @10:58PM
Goose Lake Road
3950 Faith Baptist Church - - Free Popcorn & Water to all who stop by. Restrooms will be open and available. Food for purchase inside – Hot Dogs, pulled pork, nachos, baked goods. Money collected will fund teens for camp this summer
Peart Road
5775 Various types of furniture, beautiful glass table and chairs (perfect for a 3 season room) framed art work; lamps; Christmas décor; kitchen items and lots more
5830 Fishing lures, poles, etc, outdoor misc, clothing all ages, Doll store shoes women, kids & men, Makeup, Guaranteed to find something you'll need or want
5900 Golf cart; snow mobile and tools
5990 Friday 5/4 from 8 am to 6 pm Sat 8 am to 4 pm. Sofa/Loveseat; Sleeper; Hope chest; Over range microwave
Tv/dvd/vcr; Printer/Ink Comforter; dishes; punch bowl; Décor; Women's clothes; Men's Carharts; Clothes newborn to size 6; Sporting goods; doll house; Costumes. Too much to list
6120 MULTI FAMILY FRIDAY AND SATURDAY A LITTLE BIT OF EVERYTHING.
6295 Women's clothes; baby items; home décor and household items. Men's hockey equipment and misc.6265 Girls/Boys
2014 Suzuki RMZ250; Antiques; fishing equip.; deer stand; dresser & armoire, maternity clothes; adult and kids clothes
Shoes; books; dishes; vintage costume jewelry; radial arm saw; fish tank and tonneau cover
6360 Boys clothes newborn to 2 T, toys exercise equip.; bikes; xxl dog kennel, pocket bike; window a/c; Men and
Women's clothes; household items and more.
6415 4 FAMILY Sale – 3x and 4 x ladies blouses. Lots of knickknacks; puzzles; tables and chairs. Baby item; house hold items
Toys, girls, ladies and men's clothes.
Northern Drive
6085 2 each, electric power tree cutting saws; Men's Bicycle; HOMEMADE Vanilla Extract; Decorative items
6095 NuWave oven; dishware; Halloween and Christmas Décor; Yarn; Needles and crafts. Books; Airplanes
And boats made from recycled cans.
6130 2000 Yamaha Snow mobile – Vmax 700 triple with new skis $1500 or Best offer
Shady Lane
4465 1951 International Harvester pick up truck – 6'3" hitch snow blower; generator; antiques;
Creamer and corn sheller; youth skis; 19' Bayliner I/O boat and trailer. Wooden barrel; 4 walking plows;
Industrial Pallet jack; duck and goose decoys.
4595 MOVING SALE – Furniture; appliances; household items; generator; decorations; uniforms; snow fencing
Too much to list EVERYTHING MUST GO
Bayview Drive
5515 5 FAMILY SALE; Clothes, shoes; purses, furniture, toys; household items, something for everyone
5570 MOVING SALE – Furniture; Antiques; Fypon Balusters still in boxes; top and bottom rail post. Aluminum
Fencing. Natural Gas construction heater; construction nails; microwave; Tupperware; toaster; Antique
Vanity and bedroom set. Jewelry chest and lots of pictures.
Hilltop Dr
6155 MOVING SALE – 20' Pontoon w/trailer; electric shop tools; coolers; costume jewelry; kitchen and
garden items. Cross country skies; sofa; ham radio; bread machine canoe and paddle board.
TIFFANY LANE
3540 THURS FRI AND SAT Loft bed with dresser; dk green side chairs and table w/white top; crib; small metal
dog crate, medium soft dog crate; AG canopy bed and dresser; men women and jr clothing formal 2 pc dress (8)
costumes; handmade halloween signs; games ; books ; puzzles refreshments pop water juice box chips and bakery
Tony Cove
1555 Range Hood; 4 ½ fluorescent ceiling light; swivel bar stools; bird cage; NEW sea doo wet suits; Air
Purifier; Upright freezer, Coalers and miners apparel; football gear; track cleats; housewares; toys board games
Books; bikes; ladies clothes s/m – boys clothes; Men's clothes s/m Nike, Adidas; Hollister; hurley; Am Eagle
1630 Table and chairs; American Girl dolls; games; snow board; misc household items
Whitetie Road
6110 BARN SALE – We are wheeling and dealing!! Hundreds of items MUST GO! China; household app.; bric-a-brac
Freezer; range; cabinets; 5 matching chairs; end tables, pictures, purses; Christmas décor; fishing gear.
Rollin Lane
1695 NB to 4T boys clothes; Maternity clothes; Women's clothes; purses; jewelry; books; puzzles; toys
Teaching supplies; kitchen table w/2 chairs
LINCOLN LAKE
1920 COLLECTORS Carousel horses; 45 records; toys; furniture; new suit case and small boys & adult clothes
2940 4 FAMILIES – Littlest Pet shop play sets; girls 20" bike; power wheels fire engine; Budwieser Pool Cue; scarp book
Deerfield Dr
6045 Books; hand tools; yard tools; fireplace; glassware and much misc.
6100 2 bank 6 amp precision on board charger; new fishing gear; camo; new golf and gun cases. baseball equip
boys bikes; nerf guns; board games; video games; video rocker chairs; picture frames; clothing teen boys and adults
new artisan fingerless glove $1 a pair – a lot of misc (long driveway drive back slowly)
Island Drive
1975 Friday 9-4 & Saturday 8:30-4 Lots of kids toys and clothes, ride on toys, Honda Generator, Kawaskaki Mule, Harley Davidson motorcycles, lots of women's clothes
2245 Home décor; Live and Silk plants; tables; couches; chairs; dressers; lamps; electronics; Music; Kitchen items
Clothing; tools; garden items; coolers; sports equipment; gumball machines and automotive items
Wahoo Court
2305 Friday & Saturday 8:30 to 4 pm – Lockers , foot ball and hockey game tables, sofa and love seat misc furniture,
10 foot aluminum soffit brake; compressor; band saw metal cutting misc. household and decorations too much to list
2500 Starts Friday 9 to 3 – 60 Gallon air compressor; table saw; Antique dining table w/leaves and 8 chairs 2 Matching
Twin hdbrds w/frame & mattress. New trap shooter targets; Indoor bistro table 2 chairs; Pier one Dining chairs. Horse and
Household items and misc. yard ornaments
Meadow Drive
2580 1984 Honda Shadow VT700 bobber; Barrel stove; tires and rims; home décor; table/4 chairs; dvd rack; girls
Clothes 10 – 14; cot ; end table & misc.
Gateway Gorge
2785 Friday & Saturday 8am -4pm Multi Family – Toddler clothes and baby items like new; high chairs; pack
And play; bedding sets; 112 wedding wands; Jr & womens clothing sm/lg; food processor; pasta press; home décor
RV; New Jeep rims and tires; jet skis; snow mobiles, trailer, slot machine; welder; air comps. Tools ; carprt clnr.
2820 Bedroom furniture (no bed) French doors; table top Christmas tree; ladder and tool
2960 THRS FRI SAT 8 to 4; 'Boys clothes 2 T to 4; shoes boots and toys; Baby items; bouncy; high chairs; stroller; potty chairs rocking horse. Small appliances and housewares. Water loungers; several pairs water skis; fishing equip.
Med cabinet/light bar; high heel cheeta chair 49 pcs kitchen cabinet handles. Lots of misc.
3005 THRS FRI SAT – Multi family; 2015 cub cadet challenger 500 w/4whl dr; 2 riding lawn mowers; 2 dog cages; jet table
Saw; woodworking tools; furniture; antiques; 4 rototillers ; table; chairs; tools and household misc.
3125 Come and see the most organized sale; May 3,4,5 Six families 2 cribs; pack n play; flwer grl dresses 2T & 4T; Chico Travel system; girl clothes 24 mo/4T. patio glider; men's bike; Knex roller coaster; stereo speakers; new back packs and 2004 Chrysler
Lakeside Drive
3241 PONTOON BOAT-COMPLETE WOOD SHOP-LAWN VAC-STUMP GRINDER-CUB TILLER
SNOW BLOWER-GO CART-SCOOTER-CHAIN SAW- MISC TOOLSD
Beaver Lake Drive
5105 Multi Family Farm sink; weight bench; coffee/end tables; hutch; household items; décor; kitchen appliances;
Clothing; purses; shoes; toddler race car bed; double stroller; safety harness; brand new Champion remote start
Generator on wheels. Ford and Chevy Tonneau covers. MUCH MUCH MORE
5420 Boys clothes New born to 18 months; toys; white corner desk; house hold items and chop saw
North Prairie Drive
6055 Lots of misc items, too much to list
6100 Multi Family – Women's scrubs; girls leotards; Men's women's and young adult's clothes. Christmas/home décor
Baskets/candle holders/ Books/ DVDs/VHS Movies Lots of Misc.
6415 Aluminum row boat; bedding; kitchen items; automotive items; men's/women's/kid's clothing
Children's books and toys
6445 NO clothes NO toys; Just cool stuff; small fishing boat with 5 hp motor; riding lawn mower; Sale on Friday
And Saturday
South Prairie Drive
5930 Baby toys; Home Décor/housewares; books; small furniture. Yard tools; paddle boat.
Ford Parts – Torino Cyclone, mustang Cougar 351C, 351W,390, 428, two C6 transmissions for small blk
Girls clothes from sm to 10/12; boys clothes small to 8/10; men's lg/XL and women' winter apparel M/L
6075 TV Stand, household items, decorations, etc
6130 COOPER THE CLOWN W/BALLOONS; Pork Chops on a stick; hot dogs and sausage
Many sellers kids clothes and toys Fishing equip. paddle boat LuLaRoe; Scentsy; CDs and Lots of stuff
6170 Misc. Items
6205 TONS of baby/kid items; new born thru 4T boys clothes 5 – 10. Toys ; graco car seat with xtra base.
Pack n play. Women's clothes small to large and house hold items
6245 FUNDRAISER FOR CYCLONES BASEBALL. Come over for breakfast and lunch Biscuits and gravy, hot dogs
Nachos, water and candy
Pheasant Drive
3440 38' camper, small refrigerator/freezer, record player, lamps, wall decorations and other misc
Bass Court
3620 Green Bay and Bears Sports stuff; Tree stands; paddle boat; 2 man fishing boat; 1997 Polaris XLT 650 – 400 miles
must sell $1,750. Garden Wagon; grandfather clock. American Eagle clothes; ladies; teens; shoes
Catfish Court
3505 FOOD, FOOD, FOOD PAM'S CORN DOG WAGON. Come here for breakfast and lunch! Biscuits and Gravy, Corn Dogs, Lemon Shake Ups, Pop, Water and much more. FUNDRAISER FOR PAMS DANCE ACADEMY!!!
3505a Multi Family Sale –Bean bags, Break down engine hoist; Mens big and tall clothes; Collectible plates;
Cook books; baby items; toys; Avon; Usborne books; household items and much much more
Muskie Trail
5680 42" folding poker table; bingo ball dispenser; balls and box of 100 cards; boys Schwinn sting ray chopper and Schwinn
Unicycle. Women's figure skates 7; waver slide for play fort; tinkerbell comforter; alarm clock and various items. Disney
Princess items leap frog items son max learning keyboard; toys games
5855 Paddle boat; electric scooter; golf clubs, new criterion chest freezer; baby stroller, graco port o crib, baby itens
Clothes, x box 360 games and so much more priced to sell.
Blue Gill Ct
3580 Most clothing 50 cents – Free Ice Water; Lots of womens and Jr clothing, purses, shoes jewelry. Mens and boys
clothes and shoes. Baby items; jeep umbrella stroller, Propane grill, leather blend couch, office furniture
accent furniture, digital camera ; toys; light fixtures; home décor and more.
Walleye Road
3535 Power wheels and Little Tikes outdoor castle. Toys and lots of misc. Toddler girls 3T/4T; Matilda Jane (2)
Gooseberry Lane Boutique dresses. Livie and Luca girls shoes. Boys clothes 7/8 – baseball cleats, boys and girls
Shoes. Women's clothes shoes and purses. Kids Bicycles
3540 Pictures and household items
3605 Rubber Stamps, Stitchery Kits; crafts; plus size clothing; baby toddler clothes; books; decorative tea pots;
Bible class aides, toys and odds & end and More
3650 FRIDAY& SATURDAY - 8 AM to 4 PM Multi Family – Boys clothes up to 5/6. Girls clothes up to 3TMisc. Baby
Gear, Jr and women's clothing. Weather Tech Jeep floor mats, misc. furniture, home décor and more.
Perch Ct
3620 Mens and womens clothes – household items; table chairs. Motors and Parts
Goldfinch Drive
3425 Boys clothes; furniture; dressers; toys; bunk beds; women's clothes & men's cllothes
Junebug Lane
6245 Gas Powered wood chipper; Gas Powered stump remover; electric hedge trimmer; electric weed cutter;
Lg plastic back pack style fertilizer/weed sprayer and misc. household items
6325 Matilda Jane clothing 18 mo – size 2; tons of baby girl toddler clothes. Shoes; Coach purses/ Vera Bradley
Treadmill; grill ; recliner
6355 Vacuum; coolers; 2 wheel dollie; chain saw; kids toys; clothes and shoes. Battery charger. Lamps; women's clothes
Size small and medium. 2 6 foot trees; crow bars; toaster oven; glass top patio table and chairs; glass top dining table & chairs2 sided ladder artisian items and handmade soap. 5 family sale
6490 Teenage girl clothes and truck topper supplies; Large antique desk; book case; plus size clothing; house hold items and home made goodies.
Candyland Lane
3820 Furniture; automotive parts; adult and children clothing, RV, electronics; household décor
Children's toys
3850 Friday and Saturday! Craftsman tools, Misc hand tools, electrical cords, gas cans, Dr wood chipper;
6HP out board motor. Tie down straps, bench grinder; shop lights; ladder jacks; car and motor cycle parts
20 gal air comp., comforter sets, rugs holiday décor; clothing, crafting supplies, picture frames, I phone speaker
dock; Xmas pillows; misc. dog items
DRESDEN RD
3005 2nd annual hoarders paradise HUGE 10 + family sale. Tools ; furniture; antiques; ice fishing gear; baby/teen/children
items, Farm house/industrial décor, household items, clothes, hand made goat milk soap. Something for everyone!
CHICKORY LANE (PRAIRIE OAK ESTATES)
7935 Desk; Hutch ; purses; décor; scrubs small and med; baby girl clothes 0 to 12 mo and boy clothes 0 to 2 T
diaper bag; Tommee Tippee bottleds; Dr Brown Bottles
PINE BLUFF RD
5105 My Chemical Romance jackets, Air hockey/ping pong table; New girls adj rollerblades; girls clothes 7-8
Junior and ladies clothes. hutch ; games; shelf organizer, table lamp and much more.
Forest Drive, Mazon Off RT 113 Not far from Jugtown Rd
60 Multi-Family: Kitchen appliances (Fridge, double oven, dishwasher, chest freezer, cooktop), girls & boys clothes, size 10 & up, Jr Girls Clothes, Baby items, toys, hand tools, ardware, collectable beer cans/memorabilia, kids bikes, swimming pool, misc kitchen, household, and garage items
WILDFEATHER ESTATES
(Lorenzo Rd to County Line Rd North of the Covered Bridge Follow signs)
MALLARD LANE
8765 Adult clothing; bedding and linens; kitchen glassware; outdoor garden tools
TEAL LANE
8685 Friday 8 TO 3 Saturday 8:30 to 4 We are DOWNSIZING – house hold items; furniture; clothes
and so much more!
PHEASANT TRAIL
8725 Riding Mower; Golf Cart/ATV (must see) 50 HP Mercury Motor; Large wood computer cabinet; Tree stands/ladders
dog crates soft & hard; cushioned rocking chair ; boat fenders; basket ball hoop; coffee table; pressure cooker;
paddle boat; life vests; women's and girls clothes, books; vhs tapes. a lot of stuff!!!!!!
8715 Lawn furniture; golf cart tires; love seats; trash cans; Bar stools; Microwave; crock pots; coffee pots
coolers; life jackets; dishes Paddle Boat; Nautical items : tools; antiques and much much more!!!!
8615 Precious Moments; Cd's and Wooden Spools.
Any donation for site maintenace
is appreciated.
Copyright © 2001 - 2015 Goose Lake Garage Sales