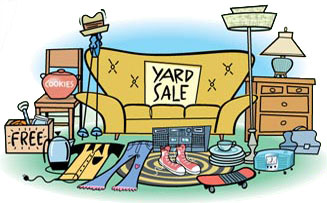 Edited 5/3/23 @5:03pm
Goose Lake Road
3935 Bar opens at 8am, Bloody Mary Bar and Mimosas, Food trucks start at 11am – Sunshine Mexican Café & Between the Buns will be in the bar parking lot
3950 Faith Baptist Church - - Free Popcorn & Water to all who stop by. Restrooms will be open and available.
Junebug ln
6355 Wood 3 or 4 grade chairs 16" high, water skis, air compressor, 3 weed eaters, snow blower, 2 car rollers, frying pans, shop vac, women's clothes, printers, 9 1/2' ft Christmas tree, some power tools, girls princess bed frame & top, books, small welder, coat rack, new window shades, mike stand, table top wine cooler, 5' tall locker & more
Candyland ln
3850 Tools, vintage hub caps, antiques & collectibles, garden items, household items, leaf vac, insulators, lighting rods, vintage license plates 60's & 70's
Peart Road
5830 Fishing equipment, hunting gear, camping gear, men/women shoes & jackets, antiques, kitchen wear, etc. something for everyone
5900 Household items, holiday & home décor, women's clothing, jackets, shoes, purses, miscellaneous items from several families
5990 American Girl Doll clothes, accessories, fabric, craft items, display gridwall, Barbie collectibles, household items, furniture
6065 Sale Friday & Saturday - Furniture, seasonal, vintage items, toys, vintage fridge & lots of misc.
6080 Friday 9am-5pm, Sat 8am-4:30pm -Multi-Family -New hair accessories, bows, headbands, scrunchies, ponytail holders, purses, adult clothes & shoes, housewares, collectibles, necklaces & much more
6215 Multi-family Sale – Boy clothes 0-18 mo, girls 0-3t, girls shoes up to size 7, crib, changing table, baby items, housewares, women's dress clothes lg & xl, dog food storage, microwave, swivel bar stools, kids books
6295 Collectibles, antiques, fishing, miele power plus vacuum, hot wheels table, bikes, kid kraft firehouse, trolling motors
6300 Multi-Family – Furniture, workout equipment, men's big & tall clothes, women's clothes, children's clothes, knick-knacks, home décor & more
6415 Muli-Family Sale – Clothes, shoes, Halloween costumes, household items
6445 Boys clothes 8-10 & 10-12, lots of brands like new, hanging lounge, reese camping hitches, kids fidget toys, kitchen things, new food processor, new wave pro, music boxes.
Jugtown Rd
2700 Local honey bees onsite, L & T Backyard Bees, several bees wax products
Shady Ln
4465 Friday & Saturday 8:30am-4pm – Over 20 years of antiques to sell! Alderlea #T5 classic wood burning stove, lawnmower, firewood rack on wheels, vintage iron twin bed frame & infant iron crib, Planet JR walk behind garden planter-excellent conditon, over 125 primitive & antiques all genuine, 10 metal coolers, 12 cast tractor seats, wooden handle tools, porcelain & iron cookware, galvanized gas & oil cans, minnow buckets, lanterns, metal signs, plow's & cultivators, many rare items
Tiffany Ln
3540 THUR/FRI 3PM-8PM & SAT 7AM-4PM Casio keyboard with bench seat, new 3" King Foam topper, full size duvet cover, hanging armoire, shoe rack, clothes Jr., women's & men's, scrubs s/m
3610 Men's golf clubs, hunting clothes & boots, deer stand, bowling ball cases, drill press, men's bike, cement mixer, turkey archery target, hunting blind, spotting scope, carpet shampooer, chainsaws, toys, pink chair & ottoman, gum ball machine
Blue Gill Ct
3550 Household items, clothes & much more
Perch Ct
3615 Indoor/outdoor deco, kitchen/home accessories, heavy duty folding table, men's, women's & baby items, pet items, lots of misc.
Bass Ct
3610 Lots of misc, too much to list
Walleye Road
3585 Vintage & antique kitchen items, Pyrex, Tupperware, bakers rack, sewing cabinet, antique steamer, trunk, barware, women's plus size clothes, home & holiday decorations.
3600 2007 Dodge Durango $1000 obo, misc tools & items, new water softener, new treadmill, bunch of misc stuff. Come by and take a look.
Pheasant Dr
3435 MOVING SALE -Tools, push mower, coolers, lawn chairs, home décor, lamps, snow blower, shovels, rakes, projector screen, patio chairs (wicker & metal), outdoor speakers, propane heater, couch, end tables, bar stools, kids bikes & more
3440 Patio table w/6 chairs, umbrella, picnic table, dog supplies, mason jars, wood pizza pans, small appliances, lawn chairs & more
Catfish Court
3505 FOOD, FOOD, FOOD PAM'S CORN DOG WAGON. Come here for breakfast and lunch! Biscuits and Gravy, WORLD FAMOUS Corn Dogs, Lemon Shake Ups, Pop, Water and much more. FUNDRAISER FOR FORTE ARTS CENTER!!! It's for the KIDS!
3505a LOTS of BRAND NEW ITEMS, corn hole bags, collectibles, electric jack hammer, Barbies, wood crafted signs, sublimated tumblers, THIS IS A MUST STOP
3550 Huge multi family sale Starts Friday 1pm-4pm, Saturday 8am-? Boys clothes infant-4t, boys toddler shoes, Toys, Books, car seat & stroller covers, convertible high chair, medela pumps, ball pit w/balls, pack & play, baby gates, wooden pub table, beer pong table, Halloween costumes, popcorn machine w/stand like new, look for balloons, no early birds
Cardinal Ln
3380 Home Décor, clothes & toys
North Prairie Drive
5640 Multi-Family -Electronics, season décor, every day décor, car mats, kitchen items, electronics, dishware, storage containers, glassware, cups, tote bags, outdoor items, knee board, 2 person kayak, golf clubs, many more other misc items
6095 THURS 9AM-7PM, FRI 8AM-5PM, SAT 8AM-3PM Jr's medium, boys 10/12, men's medium, women's xl-xxl, household, bedding, holiday, fish tank, bar signs, kitchen items, table & chairs, bar cart, baseball cleats & so much more.
6440 Indian dolls, tools, antique bush hog, misc. antiques
South Prairie Drive
5845 Electric Golf Cart, Generac GP6500 watt generator, 30 amp power transfer, switch kit with 6 circuits, tailgate extender.
5930 Tiffany style floor & table lamp, American Girl dresser- handmade, homecoming dress & shoes, night stand, omc marine stringer marine parts, mercruiser 470 marine parts, women's clothes, 1956 Thunderbird interior & other parts along with other ford parts, walker, shower seat & ladies clothes and more
5950 Snowmobile over & under wheeled storage & work platform, 2015 Skidoo MX2X snowmobile 600 Elect start/reverse 3,600 miles, 2000 Polaris 600 snowmobile, 2 wheel snowmobile garage cart, approx. 8x8' wedding guest seating card holder, approx. 2'x12' Lighted "Lets Dance" sign, decorative bag boxes w/Corona accents
5985 Multi-family, Tons of Boys clothes 3mo-2T, cozy coupe wagons, child bike mounted seat, 2 double strollers, misc toys, nursing supplies, brand new glass baby bottles, receiving blankets, vintage glass kitchenware, cocktail glasses, adult clothing and more
6040 Friday & Saturday- Multi Family Sale Household items, home décor, women's & men's clothing
Deerfield Dr
6045 4 Family Sale – Tools, curio cabinet, books, DVD's, dishes, knick-knacks, records and more
6100 Come get freshly roasted bags of Bass Fishing Life Coffee & Megan's Missing Coffee as well as single serve "k-cups" Available in whole bean and ground. Light, medium, dark, whiskey & water process decaf available. $5 from each bag of Megan's Mission coffee goes to the research center in Megan Bugg's name at cc-tdi. We also will have traditional garage sale items along with new & used fishing gear.
Lincoln Lake Drive
1920 Tools, water ski stuff, housewares, yard equipment and more
Island Drive
2110 Women's & men's clothes xs-4xl, shoes, coats, backpacks, home décor, SO MUCH MORE. Some brands include Lululemon, Nike, Athlete, Under Armour, Sorel, Ugg, The North Face, Harley Davidson, American Eagle, Holister, PINK, Ellen Tracy, Callaway
Wahoo Ct
2435 Estate Sale- HOUSE FOR SALE, John Deere Backhoe, GMC Flatbed truck, motorcycle, 4 wheeler, tools, wood burning furnace, indoor & outdoor furniture, art, vintage Chinese furniture, collectibles, kids clothes, toys and FREE items – We are moving out!!
Beaver Lake Drive
5101 Multi-Family – Clothes, boys nb-4t, girls nb-3t(some bigger sizes too), baby/kids toys & items, gas grill tools, auto parts, household items, garage heater and more
Gateway Gorge
2785 Friday & Saturday 8am -4pm Multi Family – Tool box & tools, vintage snowmobile, go kart, furniture, church pew, kids bikes, toys, games, books, baby jogger stroller, child bike seat, Jr's & women's clothes s-m, women's dress pants 6-8, men's sweaters m-l, home décor, household items & lots of misc.
2800 ESTATE SALE – New & Used tools, Ice fish tent, decoys, vintage furniture, Phonograph sewing machine, power mower (electric), 12x14 dog kennel, home & country decor
3005 Multi-Family – Honda scooter elite, john deere srx 46" lawn mower, Honda riding lawn mower 46", 4 wheeler, go kart, garden tools, boat lift, tools, household items, Jet table saw 2hp, carpenter work bench, old chain saws-as is, weed eater-as is, jet ski lift, lawn cart, craftsman snow blade
3105 John Deere 260 17hp lawn tractor 1990, one owner includes 48" 3 blade mower deck, 42" snowblower attachment, all in good working order. Scaffolding H frame like new condtion, 3 full sections w/x bracing, scaffold planks, leveling jacks, locking caster wheels, top end panels and guard rails
3125 Thurs, Fri & Sat 8:30-4 Collectible Jim Beam decanters & 7up bottles, Tons of 1000 piece puzzles, Duluth truck seat covers & back seat cover, NEW turkey fryer, 30-gallon air compressor, girls clothes 5/6-7/8, boys 12mo-8yr, NEW and used girls bikes, remote control Star Wars BB-8, Nerf guns, over 2 garages full of treasures just too much to list
Bayview Dr
5265 Furniture sale, couches, oversized leather chair & ottoman, antique dining room table & chairs & more, Tippman paint ball guns & accessories
5285 Household items, coach shoes size 9.5-10, women's clothing, misc items
5460 Snow blower, musky fishing poles & supplies, seasonal décor, antique glass & trains, artwork w/authenticity
5515 Four Family Sale – Antique dresser, tools, clothes, shoes, purses, plants, jewelry, file cabinets, home décor, Radio flyer tricycle, Milwaukee Sawzall, Milwaukee deep cut ban saw, too much to list
5540 Multi-Family – Men's & women's clothes, home décor, household items, lots of seasonal décor, lamps, changing table, crib & bedding & tons more
5550 Home décor, canopy oak crib & changing table, crib bedding, seasonal décor, men's & women's clothes, patio furniture & much more
5555 Tools, Go cart, competition ski boat, boat supplies/life jackets, fish/reptile tanks, baby & kids clothes, shoes, toys, outdoor toys, Lovevery toys, Pokemon cards, Nowex, Marine Corps League raffle tickets
Greenfield Dr
5315 4 jumbo patio umbrellas, 2 worx weed whackers w/batteries, worx blower/mulcher, worx blower w/battery, luggage, hose reel w/box, misc items
5375 Multi-Family -Clothes, bedding, 6 ½' Christmas tree
5405 FRIDAY 8:30am-4pm Boy's clothes mostly 4-5, men's & women's clothes, misc. household items, kids toys & books, brand new whole house generator 22kw- will deliver
Paradise Cove
1900 Brand name boys clothes nb-3t, girls nb-7/8, girls boutique clothes, lots of gently used kids shoes, baby seat for bike, double stroller, umbrella stroller, jogging stroller, baby swings, bouncer, baby seats, entertainment center, coffee table & end tables, toys, ride on toys, power wheels, maternity cloths, boppy pillows, new purses, home décor and more
Rollin Ln
1575 Furniture, small household decorations, garden décor, no clothes, buckets, small tables, wagon, planters, wood crates, shelfs, storage drawers, ottomans, jewelry box, room divide
1665 2 Family MOVING Sale- Slides, electric jeep, baby items, stroller, car seat, etc. fishing stuff, toys, baby clothes, women clothes, toys, decorations, bike, lots of boys shoes & more
Whitetie Rd
6270 Fishing/bait store liquidation sale, Harley Davidson clothes & items, nursing scrubs, tools, Sea Doo jetski, (2) 4 wheelers, 22' pontoon boat, lots of collectible antiques, teen & adult clothes, shoes & misc household items. A little something for everyone, be sure to stop and take a look
6440 Household décor & crafts, antique pew bench & 2 hutches, antique doors & wash tub, 3 piece tv cabinet, Thule hard shell hitched cargo carrier, garage hand tools, small tool storage, electric edger, Craftsman radial arm saw-like new, sporting goods, golf shoes, clubs, recumbent exercise bike, old bats, beer making signs. HOURS 8:30am-2:30pm
Dresden Rd
3770 Set of dishes, TONS of children's clothes (boys & girls) various sizes, kids shoes, lotos of toys
Pine Bluff Rd
5075 BassTender Boat, Trolling motors, divebomb decoys, ATV mower, Truck Tool Boxes, wood burner, car lift, 1" & 2" water pumps, crossbow, Harley chopper
Arrowleaf Trail (Prairie Oaks Estates)
7800 Tools, lawn sweeper, de-thatcher, men's large clothing, many misc items
Following below are all off Lorenzo Rd to Countyline Rd through the covered Bridge
Teal Ln, Wilmington
8900 Household items, decorative wall hangings, furniture, hose reel, Harley clothing, Harley helmet & boots, books & lots more
Any donation for site maintenace
is appreciated.
Copyright © 2001 - 2015 Goose Lake Garage Sales